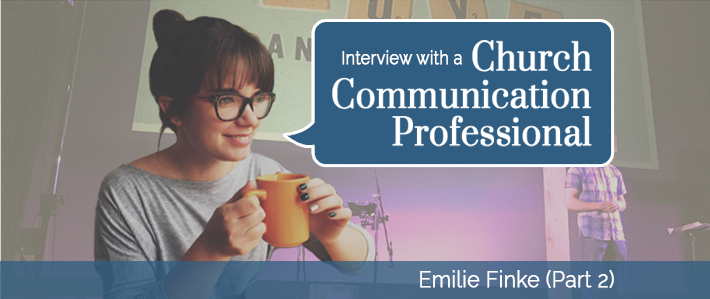 Part two of a two part series on Church Communication Professionals.
In the world of church communications, it is important for us to learn from each other and share what works and what doesn't. With that in mind, I wanted to interview Emilie Finke, an amazing church communicator who is in charge of Social Media & Women's Ministry at The Point in Knoxville, Tennessee, and give us all a chance to learn from her ministry.
Staying Focused & Motivated
How do you stay inspired / energized?
There's always something new to do! I stay inspired for church work in general via lots of time with Jesus. That's the only way because let's be honest, people are crazy and I could not deal on my own. For communications specifically, I follow certain social media accounts to get ideas and inspiration. I also work from a coffee shop at least once or twice a week because that energy and atmosphere tends to help me create and think and stay motivated.
What do you listen to at work?
Our church offices in a mall, so I usually end up listening to whatever the mall is playing, and/or the screaming children in the play area outside our door. I can't say I recommend it.
Other resources you'd recommend to fellow church communicators:
I try to have a pulse on websites like BuzzFeed and Relevant - places putting out content that young people are drawn to and even search out consistently.
Other churches or organizations you follow for communication inspiration?
I follow Park Community Church and Willow Creek, both in the Chicago area, and a local Knoxville church, City Hills, for churchspiration.
I follow @tifforellie, @ruthielindsey, @vinnielouise, and @knoxvillebrew and a handful of other accounts for people/places who do a great job of somehow creating true online community with complete strangers.
The Essentials
Favorite digital marketing tool:
I'm not going to lie, I do not entirely understand what this means. So. I probably don't have one.
Current mobile device:
iPhone 7 - its best quality is that it's rose gold and adorable. JK the camera on it rocks.
Current computer:
Macbook Air
Favorite coffee/tea:
I prefer very specific good quality (aka overpriced) black coffees. However, I'm also a sucker for seasonal lattes. Any season. Any latte. Give it a cute name and I'll buy it.
Specifically, the cafe across the street from my apartment has bottomless coffee (bottomless!!!!) and a Cinnamon Hazelnut blend that's just to die for. Somebody stop me, I could talk about coffee for days.
App / software you couldn't work without:
Advice & Looking Forward
What advice would you give to churches considering adding this position?
Do it. It's a great way for the community to know who you are without ever stepping foot into a church. People aren't necessarily at your church or at the gym or in a school but they are all on social media of some sort. It's a way to witness, show your church's heart and "vibe" for lack of a better word, and keep your current members engaged and uplifted.
What advice would you give to someone about to step into this role at a church?
Always remember that ultimately, social media is a platform for actual relationships. Don't underestimate the power of Google, YouTube, and other people when it comes to learning what you're doing. Don't try to be someone you're not - people can sniff out an unauthentic voice from a mile away. And put some of your budget towards Facebook advertising. Trust me.
Biggest challenge & opportunity in the next ten years?
Figuring out what the next ten years will bring. The early twenties are a fun time, eh?
For other helpful ideas and topics, visit the CTS Blog Technology & Your Ministry.