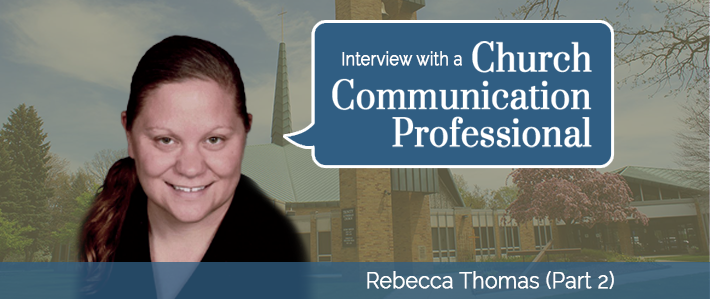 Part two of a two part series on Church Communication Professionals.
What's one thing that surprised you about church communications?
Church is something that a lot of people do one time per week. The church is not something that is on their mind Monday through Saturday. However, our job as church communicators is to engage them in some way shape or form during the week and help keep them connected. That can be a real challenge. In the past, I've worked at schools where the information, calendar and news from the school was a top priority and our audience was in the building every single day. When people leave church on Sunday, the events and programs throughout the week might fall to the bottom of the list and we aren't the place they go every day. It's a real challenge to keep them engaged and interested. It's also an incredibly broad audience. Having members who are in the 100s down to preschoolers, it's often tough to pick the best communications medium. You don't want to leave anyone out, so that often means putting a message out there in so many ways to ensure that everyone gets it.
Tools for Church Communication
Favorite digital marketing tool:
Grum - an app that allows you to post to Instagram from your computer.
Current mobile device:
Samsung Galaxy S5
Current computer:
Toshiba laptop
Favorite coffee/tea:
App / software you couldn't work without:
Google Docs
Staying Focused & Motivated
How do you stay inspired / energized?
I stay inspired/energized through other people. Conferences, networking events and even online groups help keep me connected to what others are doing and how they are handling the challenges of their positions. I'm reinvigorated when I learn about new tools, hear success stories and have the opportunity to collaborate with others in church communications.
What do you listen to at work (music, talk radio, silence):
Pandora. I change up the station depending on my work. If it's time to write, I use something more mellow. If it's time to be creative, I go with something a little more bouncy.
Favorite blogs, websites, podcasts, or other resources you'd recommend to fellow church communicators:
Lutheran Communicators and the Church Communicators groups on Facebook. The best part is the feed comes to me constantly throughout the day.
Other churches or organizations you follow for communication inspiration?
I don't have any one particular church. I do, however, know what the churches in our area are doing and I follow them on social media. It helps to keep me motivated. I also like to stay in touch with Seth Hinz at the Michigan district office and make sure that I'm doing all I can and using all of the tools possible to get the message out.
Advice & Looking Forward
What advice would you give to churches considering adding this position?
Communication should not be an add-on. It's not a good idea just to tack it onto the role of someone currently on staff. They have responsibilities to the church. Communication is more than updating a Facebook status; it's about strategy and engagement. Find someone who can be not only the voice to the audience, but also the ears to listen to what's going on out in the congregation and the community and bring that back to the leadership.
What advice would you give to someone about to step into this role at a church?
Find support. Join one of the many church communicator Facebook groups. Go to conferences. Find local peers with the same role and support each other. We are all in this to bring people to God. Collaborating with those around you can help make the task feel less daunting.
Biggest challenge & opportunity in the next ten years?
Staying current. As the audience of the church changes, I need to be able to stay in front of the ways the church uses the new (not yet developed) communication tools. I want to make sure that we are using the right tools in the best way for the church. Staying involved with what's coming up, how to use it and doing it strategically are both the biggest challenge and opportunity.