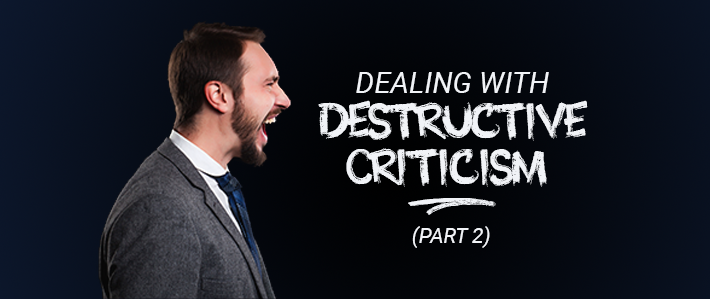 Criticism is hard to take. We all want to just have everybody happy with us and our performance. After writing an article on how to deal with criticism I had a few requests to go into further detail about dealing with destructive criticism in particular.
Destructive criticism's point, unlike constructive, is to cause hurt, damage, and pain. Whereas constructive criticism's goal is the betterment of all.
(Part two of a two part series)
Some Specific Issues
I have been asked to address three topics specifically:
How to address lies and rumors, or do you?

What if your church leadership is the one tearing you down?

What if the criticism turns to bullying, both in the context of it coming from church leadership or just from somebody within the congregation?
These are serious questions.
Remember how I said that there was not a particular order to some of this. When it comes to destructive criticism there is a step that I do suggest to be taken very early on. That is the Matthew 18 step.
15 "If your brother sins against you, go and tell him his fault, between you and him alone. If he listens to you, you have gained your brother. 16 But if he does not listen, take one or two others along with you, that every charge may be established by the evidence of two or three witnesses. 17 If he refuses to listen to them, tell it to the church. And if he refuses to listen even to the church, let him be to you as a Gentile and a tax collector.
Constructive criticism will often not need this step. In dealing with destructive criticism however, this step is critical. A church worker should strive to at least find reconciliation on a personal level. This is sometimes hard to do. But, we are not promised an easy life. Doing hard things is just part of being an adult. A way to start this conversation is to point the person to the Table of Duties, what the hearers owe their pastors.
I am going to try and answer these questions one-by-one, but be aware that there is some overlap on these issues. If you find yourself in a situation like the above, then you might want to combine several of these tactics together as it fits the situation.
Combating Rumors
Someone once said that a rumor is halfway around the world before the truth can get out of bed and put its shoes on. Rumors thrive in private spaces. They like the dark. I have found personally that the best way to deal with rumors is to bring them into the light.
It is helpful if you have a strong church leadership that backs you. Having multiple people helping to correct rumors makes it easier. The head elder or congregational president can make a public announcement if need be. This is beneficial for the fact that it shields the church worker from having to respond and conveys that the church leadership is on the side of the church worker. That type of public support can shut down the rumor monger whether they are just a lay member or on a board, even an elder.
While personal reconciliation (Matthew 18) can go a long way, it can be beneficial to have an elder also speak with the person in private if the rumor monger is known. Hopefully, this is enough. If the person repents and personal reconciliation is made, then the problem should be over. However, if the repentance was false, then meeting with the person and a few elders is the next step. If that is not enough then church discipline is next. Usually when it gets to that point the member in question will likely be looking for a new church. At the new church, they still might take shots at the previous congregation, its leadership and church workers. Since the new church is rarely LCMS, not much can be done. At this point it becomes better to ignore any continued insults. Why? Over time it will appear as sour grapes to most.
What if it is the church leadership?
This raises a whole can of worms. I'd contact a Circuit Visitor for some insight into this. Much of what follows will be based on his advice.
Start with Matthew 18. We should strive for personal reconciliation. Again, point the church leader to the Table of Duties.
I'd then go to the elders (provided the leader/s in question were not the ENTIRE board of elders), but only if it was not dealt with in a satisfactory way when approaching the offending parties. I would ask one or two of the elders to come with before the person who's sniping.
It would be hoped that if destructive criticism is being leveled it is not done so by all those in power. Usually it is a small but influential group. This is going to take guts from both the church worker and the leadership that would like a cessation of conflict. It could lead to a temporary increase of conflict. That happens so be prepared for it. This is church politics. And while church workers should play above the board the offending party might not.
If reconciliation fails at this point there are three roads to take:
Go to your senior pastor or circuit visitor. This is the more politically savvy thing to do.

Bring disciplinary action against the unrepentant Christian. This is the godliest thing to do.

Bring disciplinary action while going to the senior pastor or circuit visitor. This is the best combination and is also God pleasing.
While doing any of the three it would be good to point the person to the Table of Duties, specifically what the hearers owe their preachers (again). I should also point out that if things get to this point that many (if not all) congregations have built in mechanisms (usually within the by-laws) of how to deal with conflict. A circuit visitor is going to be asking if they are being used. The circuit visitor will also be in communication with the district. Heed their advice.
This advice is also the same for destructive criticism turns to bullying. Bullies tend to pick on those they perceive as weak. So, it is important for a church worker to stand up for him or herself. It will not be pleasant, but it is necessary. You will have to defend yourself. In some instances whomever is giving the destructive criticism will attack the church workers family. It will not be pleasant. If it is not the church leadership, then get them to defend you. If it is parts of the church leadership then follow the above advice.
Now, the assumption underlying all this advice is that the criticism is not valid. If the church worker has been the cause of offense (not someone taking offense but the church worker giving offense) then it should be them who is repenting and asking for forgiveness and reconciling.
Destructive criticism is hard to live through. It can be painful and symptomatic of larger issues of conflict. Church conflict is never pleasant and, unfortunately, all churches will go through it at some point. I prayerfully hope that this article offers some practical advice for when you will have to deal with these issues.
For other helpful ideas and topics, visit the CTS Blog Technology & Your Ministry.