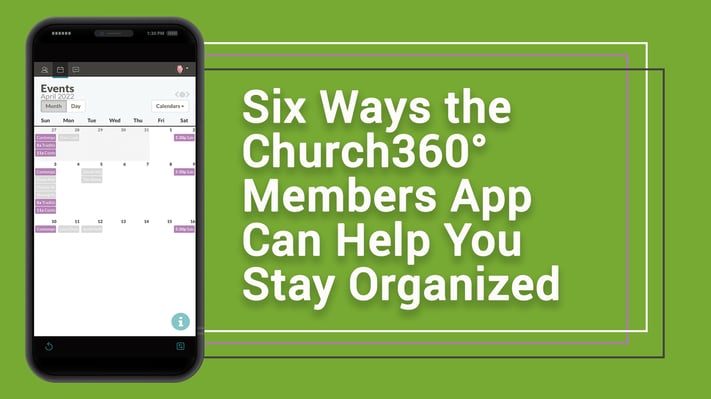 Technology might not be the first thing that comes to mind with the words "pastoral care." Yet, the resources of technology can truly aid pastors as they provide spiritual care for their community on the go, away from the physical church office. The Church360° Members mobile app is one such resource. In the app, you'll find features that support the work at the very heart of tending to the flock you're called to serve.

1. Digital, On-the-Go Church Directory
Whether you're traveling from visit to visit or needing to make an unexpected call, your church directory is always along for the ride. Look up phone numbers, mailing and email addresses, and other information that helps you to connect with and care for those you serve. Plus, you're able to update information when notified of changes right in the app, eliminating the need for a sticky note reminder that may or may not make it back to the office.
2. Log Visits Right Away
My husband, a pastor, noted that this is his most used feature in the Church360° Members app. He appreciates the ability to log a visit and make notes regarding prayer requests, health conditions, family concerns, and so on as soon as he's back in his car, immediately following a visit when all is fresh in his mind. Improved record keeping ensures visits don't slip through the cracks and the flock is cared for. You can also easily check notes from your last visit to be reminded of any pertinent information related to an individual or household when heading in to meet with them.

3. Sort and Search for Members Away from the Office
Much like the desktop software, this app allows you to sort and see your congregation's database in a variety of ways. This can be helpful when you're in a meeting without a computer and need a count of households with second graders or a list of those who have been widowed in the last three years.

4. Tag Skills and Interests As They're Mentioned
Say you're out for coffee, getting to know a new member, and they mention their background in website design or their hobbies. Within the Church360° Members app, you can easily create or add a tag related to the skill or interest you just learned about. Down the road, when various groups or boards have opportunities to serve in particular areas, a quick search for a related tag will bring up potential volunteers and engage members in meaningful ways.
5. Tag Board and Study Groups
Similarly, tags can be created for boards and other groups, like the Wednesday morning Bible study class or Vacation Bible School volunteers to indicate who is currently active and involved and to allow you to see who might need some encouragement to connect. This also provides a simple path to targeted emails when needed.

6. Access Calendar Records
This feature helps to stay on track with all of the many events relevant to the church throughout the month. It's easy to click any event to manage essential information (like if attendance or offerings have been taken), record key details, and tweak the event's time and date. Once again, accessibility through the app is convenient when in a conversation or meeting without a laptop and the discussion would be aided by such information.
The app is available for iPhone and Android devices and is free for those who use Church360° Members. Learn more by clicking the button below.