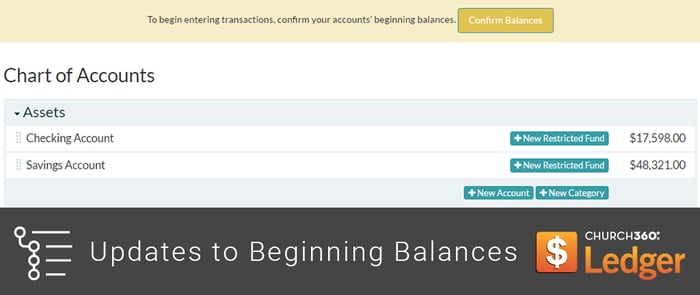 We've updated way that beginning balances function in Church360° Ledger. This change will on be relevant to our new customers or customers who have not yet reconciled any of their Asset accounts.
Setting Beginning Balances
To set the initial balances, navigate to the settings cog and select Chart of Accounts. Fill in any Asset and Liability account information. Click "Submit" to record changes made to each line item. Once all line items have been updated, click "Save Changes" and "Confirm" to finalize your Chart of Accounts.
After saving your changes, click the yellow "Confirm Balances" button. Enter your date of confirmation and then click "Confirm" again to finalize your changes.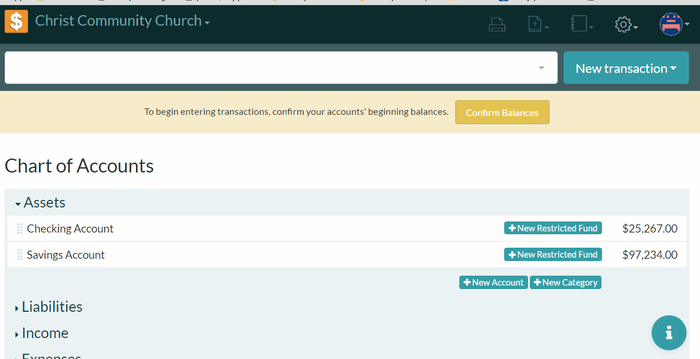 Changing Beginning Balances
If, after entering transactions, you realize that you made an error in entering beginning balance information, you may reset your beginning balance amounts by going to the settings cog and selecting Chart of Accounts. Please note that even if you change the beginning balance amounts, you will not be able to change the initial start date for your book. Additionally, any changes made to the beginning balances after initial confirmation will also appear in the Church360° Ledger Event Log.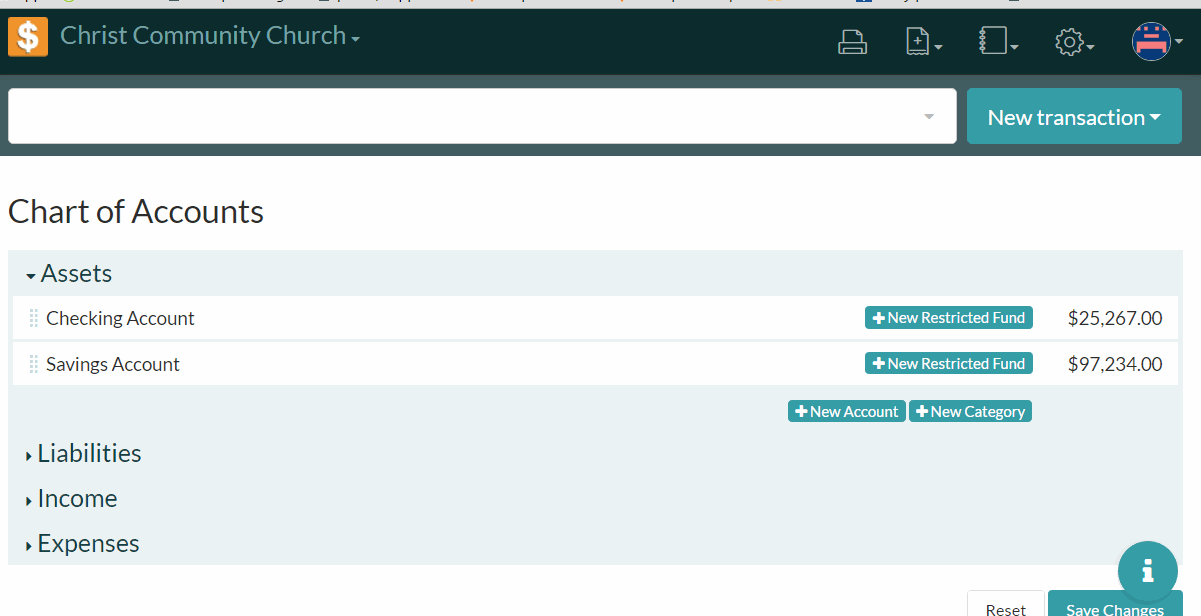 Locking Beginning Balances
The beginning balance amount will lock after each Asset account is reconciled for the first time.
This means that after you reconcile, you will not be able to change the beginning balance amount from the Chart of Accounts. If you attempt to change beginning balances after the point of reconciliation,a small symbol will appear above beginning balance field indicating that you are unable to edit the beginning balance amount.

We appreciate all the feedback our current customers have provided and hope this improves the startup experience for all new customers.
If you have any questions or comments, please contact our support team at support@cts.cph.org or 800.346.6120.
To receive product updates on a regular basis, please subscribe to our blog! You can choose to receive updates on an instant, weekly, or monthly basis.