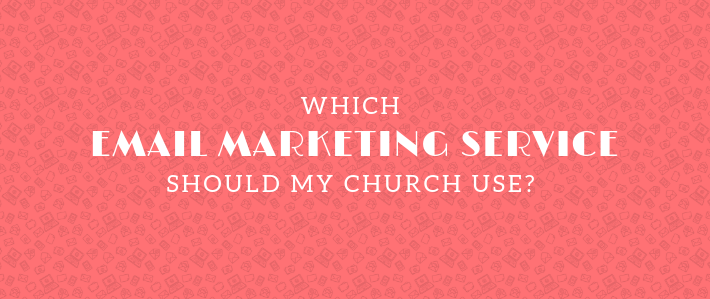 More and more, church offices are utilizing web-based email marketing services for communicating with their congregations. Why are they doing this?
Newsletters are being created and sent out by email.
Churches are moving away from bulletins and paper, so regular announcements are being sent out via email.
Email service providers allow for multiple lists, segmentation according to purpose, and tagging for different functions.
What Do You Mean by "Email Marketing Service?"
Some churches get a freaky feeling when you say "marketing." They think of long direct-mail letters promising great riches, invasive pop-ups, or used-car dealership ads. "My church doesn't (harumph) market!"
Marketing is simply what any business or service does to let people know they exist and want to help. The sign in front of your church is marketing. Your newsletter is marketing. Even your bulletin is marketing. Marketing is anything you do that reaches out to those who need you . . . including both those who don't yet know you exist and those you already have a strong relationship with.
Email marketing services are websites that house your email lists and make it easier to send emails out to groups of people. They also have features that make you want to use them over your own email service, such as security, easy design and formatting, and access from multiple locations and people.
Here are some email marketing services you may have seen advertised:
Mailchimp
Constant Contact
ConvertKit
SendinBlue
Infusionsoft
You've probably seen ads for these on Facebook or other places. Some of these are more powerful than you need because they are geared toward businesses that have extensive marketing needs and connect with other business platforms.
Why Do I Need an Email Marketing Service?
Here's the biggest reason, and it's a pretty important one:
Email marketing services help you avoid the spam folder.
When you send out bulk emails from a regular email account like your office email, the emails are far more likely to be tagged as spam. The Internet is basically saying, "Your email account isn't behaving like a regular email account."
But you're not spamming. You're sending information to people who want it (and have asked for it). So don't let the Internet treat you that way!
When you send out an email using your office email to a bunch of peoplel, either you reveal everyone's email addresses to everyone else, or you have your BCC field loaded with email addresses. If you mess up, you reveal everyone's email addresses. If you don't, you're still using a field that isn't meant for a huge load of email addresses, and your emails can land in the spam folder.
So an email marketing service provides an option that keeps everyone's identities private and doesn't abuse your BCC field.
Email marketing services let you divide up people according to purpose.
With an email service, you can set up different lists and segments that let you address exactly who you need and give recipients exactly what they need.
Visitors List
Last month, I wrote about email welcome sequences for visitors, which are series of emails that go out over a period of time to create a relationship with those who have visited your congregation. When you have an email marketing account, you can set up a list for visitors, so the welcome emails can start going out automatically the instant you add the person to your visitors list.
But you also can segment your visitors list. Once visitors are done with the welcome sequence, you can move them to a segment that receives invitations to congregational activities. (Avoid sending other emails to someone when they are in the middle of a welcome sequence. It can overwhelm them.) With an email marketing service, you can make this happen automatically instead of relying on your memory.
Members List
Email marketing services give you a much better tool for organizing your member communication. They allow you to send out announcements, newsletters, fundraiser notifications, and reminders to people who already are expecting them.
You can segment this list—maybe according to small groups or other big activity divisions. You also can tag list members according to roles and activities. Here's an example:
Tag members who are in particular boards, groups, or committees.
Tag members whose kids are in confirmation or Sunday School (and tag the kids who are in confirmation).
Tag those who are participating in the Christmas program (and then untag them when that's done).
Then when you need to send out a notification to certain groups, all you have to do is send an email to those with the particular tag.
Email marketing services let you create website forms that act as lead magnets.
Most email marketing services provide forms that can be embedded on your website so people can sign up to be on your email list. Many organizations provide a gift or enticement for doing this, and this is called a "lead magnet."
Let's say you're a Lutheran church and you want to reach out to people who don't know your congregation. You could offer to send a PDF booklet on ways to share one's faith with others or a six-part email series on what Lutherans believe. You can set up your email marketing service so that when a person signs up, he or she will receive the lead magnet (the informative gift) right away.
Email marketing services have formatting options your regular email doesn't have.
I say this with one caveat. Research has shown that people prefer receiving emails that look like letters. They don't want a highly designed page. But sometimes there is a good reason for a designed page. People do like newsletters that look polished. And it is great to send out pictures with captions and event notices with awesome graphics—and when you want an RSVP, nothing beats adding a button.
Email marketing services make it easy to add graphics, often with predesigned templates or simple drag-and-drop editors.
Email marketing services help you comply with privacy laws.
One huge reason to use an email marketing service is that by law, every organization needs to provide certain information in their marketing emails. In the United States, marketing emails are supposed to have three elements to protect the subscriber:
The sending organization's physical address
A statement of how the person got onto the list
A way to opt out of the organization's marketing emails
This gets even more complicated if you are dealing with subscribers in Canada, and even more complicated if you have subscribers in the European Union. (Google "GDPR.")
Email marketing services automatically provide all three of these features in the footer of your emails. They also are equipped to help you with international emailing, too, so refer to them for specifics.
Email marketing services give you feedback.
When you send an email to a list, the email service can tell you who has opened the email, who has clicked your links, and even what percentage of people are opening your emails and reading them.
This isn't being nosy or violating privacy—it's letting you know how effective your efforts are. It can also clue you in to whether someone is getting your emails so you can double-check whether you have the right email address, whether the person needs to check their spam folder, or whether email is the best way to get information to them.
Which Email Marketing Service Should I Use?
It depends on your needs and budget. Some email services are free, but almost all free ones limit their services to lists of a certain size or the number of emails sent per day. However, most congregations will never need to worry about these limits.
Free Options
This list has only a few of the most popular choices. There are several more out there.
Mailchimp is the most popular free option, and they don't start charging until your lists combine to make 2,500 subscribers. While Mailchimp is continually adding to their range of features, most people agree that Mailchimp's best feature is that it is free with few limitations. These features are all free on Mailchimp:
Multiple lists
List segmentation
Form creation
Templates
Drag-and-drop editors
Automations
Several plugins allow easy integration with a WordPress site, and since Mailchimp is far more popular than any other free option, most website platforms such as Wix and SquareSpace integrate with Mailchimp.
If you have large church or a prolific pastor who has quite a following and you reach the 2,500-subscriber limit, look to transfer to one of the paid options listed below. Almost all of them are easier to use for almost exactly the same price as Mailchimp's paid plans.
SendinBlue's free option doesn't limit the size of your list, but it does limit the number of emails you can send out to 300 per day. So if you are sending an email to 500 people, you will need to do it over two days. There are also charges for certain features.
SendinBlue has most of the options available in Mailchimp, but it incorporates some of the user-interface features of some of the paid services, including an automation workflow where you can set up a visual flowchart dictating the actual steps of an email automation. Workflows are wonderful to work with and simplify the whole process.
MailerLite is another popular choice that is strong on features. It is free for up to 1,000 subscribers and has no limit on the number of emails that go out. They offer both predesigned templates and a drag-and-drop editor.
MailerLite has some beautiful landing page templates. It also offers popup and embedded subscription forms and easy-to-create automations.
Like Mailchimp, MailerLite has plugins that easily integrate with WordPress. It's definitely an option to consider.
Paid Options
There is no shortage of paid email services, so if you go this route, do some investigating. Several websites offer reviews of email marketing services for small organizations.
The ability to send bulk emails is part of the Church360° Unite package CTS offers. Not only that, but the way it interacts with other parts of the Church360° Members database creates quite a dynamic experience.
AWeber is easy to use and set up but is definitely not as sophisticated in its features as some of the newer services on the market. It offers a clean look to its emails, automations are easy to set up, and lists can be broken up by tags and segments.
AWeber's biggest strength is that it tends to have the most free integrations available. A lot of software companies go out of their way to make their software "talk" with AWeber for free. A lot of other email services have the ability to connect as well, but usually the code that makes it happen has a fee attached to it. So if you have a member forum on your website or use surveys frequently, AWeber would be one to consider.
Constant Contact was first the email marketing service to hit the market, at least on a huge scale. They advertised like crazy introducing something completely different. They were new and innovative. But they haven't really kept that position.
They provide free templates and a drag-and-drop editor, but the emails provide a very narrow writing space with huge margins that make setting up a nice newsletter difficult, while also not letting users have the white space that make the preferred letter-like format easier to read. While the price for their basic service compares to that of other companies, their premium options are often available for free on other sites.
ConvertKit was one of the first services to come out with a visual workflow and it makes quite a difference. There are now several others that have this as well, including Drip, Sendlane, and ActiveCampaign. I've used all three; they all are easy to learn and they work very similarly. (I've found Drip's drag-and-drop editor to be the hardest to use of the three.) They all have the ability to integrate with other software either through sharing an API code or through a service like Zapier.
Whatever You Do, Choose Something
Using an email marketing service is pretty standard across most organizations. With the need to protect members' information, the legal requirements for email lists, and the flexibility these services provide, an email marketing service is something every church should implement if they are communicating with their members by email.
Changing email marketing providers is an easy process, so don't feel like you're committed because you've signed up with one and built your list. It's easy to download your list and upload it to another service, so you can try out various services during their trial periods to figure out which one you prefer. The previous email campaigns won't go with you, but the email addresses and data will.
Most churches will be very happy with one of the free options. In my business, I make my clients' websites, social media, and email strategies work together, so the paid email service that I find particularly intriguing as a former church secretary is CTS's own Church360° Unite. Everything integrates so smoothly and it's only one part of an entire church management system. It's designed to do what I already work hard to create for other organizations.
I'd love to hear what you use for sending out newsletters and other mass communications. What do you like about your email marketing service? What don't you like about it?
Learn more about the use of technology in your church by subscribing to this blog!