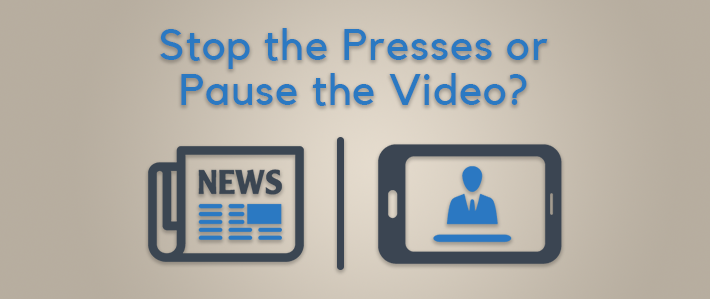 Pew Research recently came out with an interesting study. The study in and of itself is not interesting, however, the results are. In the rush to digitize everything and the push towards moving to video one little thing has been overlooked: Millennials prefer to get their news by reading. Overall, Americans want to get their news by watching video compared to reading or even listening to the news (46% : 35% : 17%). However, things look much different when you break down the age groups.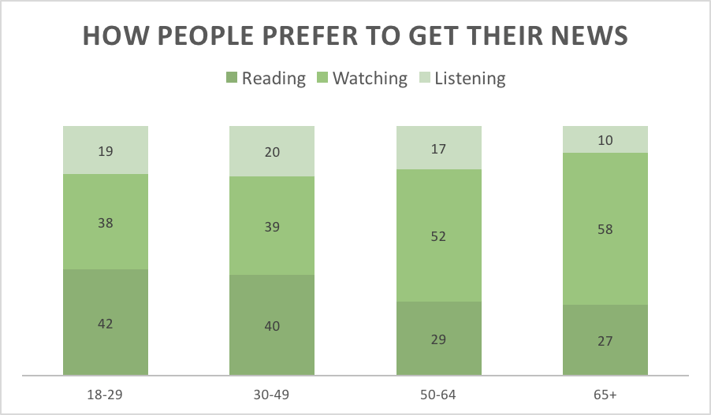 While older Millennials and young Gen-X'ers are almost split evenly between reading and watching, the gap widens the younger you go. Another surprise was the vast difference between the 30-49 year olds and 50-64 year olds.
It should be noted that while Millennials preferred news by text they wanted that text to be digital (81%) compared to physical/paper (19%). And, when it comes to watching the news TV is still king. But, the king is not well. While 57% of 18-29 year-olds preferto watch the news on television to the 37% of those who prefer to watch the news online, it is much less than 30-49 year-olds (77% to 15%).
The Plot Thickens
"Wait a minute!" you say, "What about all these videos that are coming out and things like Facebook Live? Video is increasing, not decreasing!"
A bit of bad news about that. Last September Facebook was forced to admit it had incorrectly overinflated their video numbers for over two years. A few months before that in May of 2016 the Reuters Institute for the Study of Journalism published a report. It found that, "So far, the growth around online video news seems to be largely driven by technology, platforms, and publishers rather than by strong consumer demand. Website users in particular remain resistant to online video news with only around 2.5% of average visit time spent on video pages in a range of 30 online news sites; 97.5% of time is still spent with text. Around 75% of respondents to a Reuters Institute survey of 26 countries said they only occasionally (or never) use video news online."
The study did find that videos took precedent over text in two situations: breaking news and "social videos [that] tend to be short (under one minute), are designed to work with no sound (with subtitles), focus on soft news, and have a strong emotional element."
What Does This Mean?
While the articles above deal with news, there are some lessons that we can apply to the church.
First, unfortunately, if you have gone in whole hog with video only in an effort to reach Millennials, you might want to rethink your strategy.
Secondly, just because Millennials might not engage as much with videos it does not make it an invalid strategy all together. Take a moment to look at some of the deeper metrics of your Facebook page. In the "People" section of the "Insights" Facebook handily breaks down your fans, people reached, and people engaged by gender and age. My church's page, for example, has the two largest demographics in 25-34 and 35-44 with women being 80% of those numbers. But, we still have significant portions of people in the groups of 45 years old and up. It is that very demographic that engages with video more than text. And, just off the top of my head, it is that group that tends to post videos to their Facebook walls the most.
Third, communication strategy should not just be limited to one medium. Instead, how you communicate with your congregation or stake holders should be by a varied means approach. In other words, use a multitude of mediums for maximum reach and effectives. Blogs are still very effective and useful. And, video does have a place. Even podcasts can be effective.
Learn more about the use of technology in your church by subscribing to this blog!