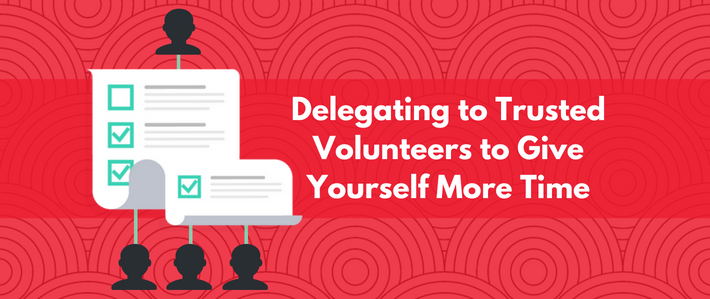 If you're a church worker, you never have a shortage of ways to stay busy. It seems like as soon as you finish your Sunday services, you're already running out of time to get everything ready for next week's services, especially when you add up the countless meetings and tasks on your to-do list. If you want to keep your sanity and have any kind of family life outside of the church walls, it's important to find ways to save time and be efficient. One of the best ways to keep yourself from drowning in your work is to pass some of it off.
Many of us working in the church have a hard time letting go of tasks. We can sometimes feel like we owe it to our congregations to suffer and show that we are worth what we're being paid. As common as this viewpoint is, it's an unfortunate one. Not only is it a bad situation for us and our families, but it's also counterproductive. Rather than being willing to build up leaders from our congregations who are looking to get involved and serve, we sometimes hoard those responsibilities for ourselves.
I don't think we do this maliciously or even intentionally. But if we want to make an impact in our community and in the lives of our members, and really drive them into a closer relationship with Christ, we need to become comfortable with letting go of some control. This is easier said than done, and I won't pretend to have the answers or even be good at this. But I think it's worthwhile to think through some ways we can empower our members, not only to save ourselves time but also to build members up and show them that they are also part of this mission to bring people to Christ.
Pulling Volunteers Out of the Woodwork
For a lot of us, the hardest part of the process of finding good volunteers is just knowing where to start. I've had the opportunity to work at a few decently large churches (more than 500 members) in my career thus far with varying levels of support finding volunteers. In my first congregation, I found myself becoming discouraged with the number of volunteers I was able to find. I served as the youth director, but I was also in charge of making sure our Sunday services were recorded and uploaded to our website. Since Sunday mornings were one of the best times for me to engage our youth (who had lots of other commitments outside of Sundays), I knew I needed to find people I could trust to handle the videography for me.
One of our elders had some experience with videography and was an extremely servant-hearted guy who wanted to help out, so I was able to convince him to be my "head guy" when it came to Sunday-morning videos. But even he, as an elder, had varying levels of responsibilities on Sunday mornings, so we needed to find more volunteers. As a youngster in ministry, I had the idea of making a few announcements, both in the services and in our other forms of communication, asking for anyone who might be willing to help. I got maybe one taker. I was pretty bummed. I assumed that in a church of our size, I would have to turn people away because I had so many people offering to help. But that wasn't the case. After seeking advice from much wiser colleagues, I realized this probably wasn't the most effective approach to finding volunteers.
What I learned was that most people are willing to help out with things, but they're much more willing to do so if they're asked personally. Some people still turn these opportunities down, but I've found in my ministry that most people accept them. What I try to do now is ask around to see if anyone knows someone who might have the interests or skills I'm looking for, whether technological, organizational, or interpersonal. Then I personally ask those people if they would be willing to assist me. Not only does this give people an opportunity to serve, but it also tells them that others have seen the gifts God has given them and helps build their confidence. Once I find people who are willing to help out, the main part of my job is to equip these people to lead.
Training Volunteers to Lead
It can feel amazing to finally find people who are willing to serve and assist you, but those people come with varying levels of experience in the areas they're willing to serve in. Sometimes, you're blessed to have professionals in your congregation. I've had volunteers in videography who run their own marketing agencies and I've had youth ministry volunteers who teach in our local high school. Those types of volunteers are great. You can skip over a lot of the beginner details about how to do things and jump straight to the nitty-gritty of shaping your ministries to fit your church's needs. Typically, however, your volunteers will not be professionals in the areas you're asking them to serve in, so it will be your job to equip them with the tools and training they need to lead the way you need them to.
The majority of my volunteers in youth ministry were people who had a heart for kids and wanted to see the next generation stay in church and rooted in their faith. But very few of these volunteers had any kind of professional training in how to work with kids. When I had volunteers lead Bible studies, part of my task as the youth director was to find curriculum that was easy to use and to make sure the volunteers felt comfortable leading the content. I wanted to clear all the clutter that made them feel nervous and allow them to just do what they were good at—forming mentor relationships with the kids and serving as a godly example.
Retaining Volunteers
While the initial process of finding volunteers can be a chore, it can sometimes be equally difficult to retain volunteers. Since many of our volunteers also have full-time jobs and responsibilities, what they have to offer us is simply what is left over, and for a busy culture like ours, that's not always a lot. Especially when we're still building our volunteer base, it can be easy to overwork or expect too much from our volunteers, which results in them burning out. As church workers, we have the responsibility of empowering our volunteers to get more involved but also to help them keep safe time boundaries.
Once again, it may seem counterproductive to limit the amount we let people volunteer, but if we're continually relying on one person every week to do certain tasks on top of their already busy schedule, we may end up losing that volunteer. At my current congregation, I have a volunteer musician who is extremely good and would be willing to play every single week. It can be very tempting to allow him to do this, but I intentionally keep him off the schedule every once in a while for two reasons. First, I want to make sure he doesn't end up feeling overworked and tired of playing. And second, I want to give other, less-experienced musicians an opportunity to grow.
While ensuring your volunteers don't burn out is extremely important, it is equally important to continually show your gratitude and appreciation. While this can sometimes mean buying them a drink or having them over for dinner, it can also mean just recognizing their hard work and saying thank you. I can sometimes get into a rut where I'm just going through the motions and not thinking about showing gratitude, but I try to regularly remind myself to verbally let my volunteers know how much their service means to me, because our church truly couldn't run without it!
Repeating the Process (Multiplication, Not Addition)
Lastly, I think it's important for us church workers to learn to multiply, rather than just add, volunteers. It can be easy to find one volunteer and lean on them until they can't take it anymore, then find someone else and repeat the process, but a better process is out there. It's the multiplication of volunteers. This can take a little more strategy and oversight on your part, but the benefits far outweigh the costs.
Part of building our volunteers up needs to be teaching them to build others up. If you as a leader find two people to really pour into and work with, and encourage both of those people to find two more people to pour into and train, and you keep that up down the line, pretty soon you'll have a whole group of people building each other up. This way, you're not only getting people to help out, but you're also giving them ownership in the ministry and a chance to lead.
As I said earlier, these are things I'm still learning and trying to get better at. It takes a good amount of humility to be willing to let go and trust others to help with the ministry you're in charge of, but our ministries aren't about us. They're about Jesus. He's given us the opportunity to lead and teach others to lead, and the more we allow Him to be in charge and trust that He will work through others, the more successful and productive those ministries will be.
What about you? Do you have any tips or ideas for working with volunteers? Share them in the comments below so others can learn from you!
Join the conversation as we live-chat with Andrew about delegating work to volunteers.
Thursday, August 30 at 11:30 a.m. (CDT) on Facebook