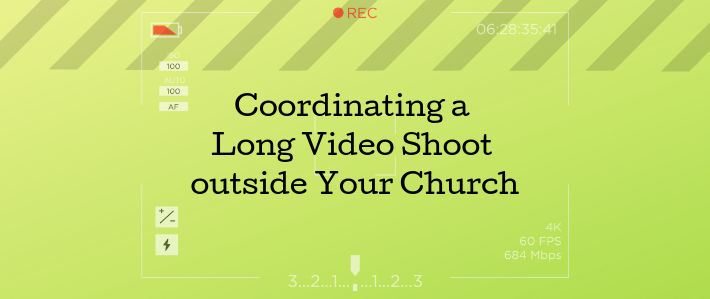 Last month, I wrote an article about creating shorter videos for your church, but sometimes, a story can take a little longer than two minutes to tell. While many of the concepts behind creating a longer video can apply when you create a short video, you'll tend to put a lot more time and effort into longer videos, and in turn, you may want to consider increasing your quality as well. Many people can and do shoot these types of videos with their shoestring budget gear, such as an iPhone. But if you plan to make these long-form videos for your church (and I'll explain why you should), you may want to look into some of the gear suggestions I have for you.
Why Make Longer Videos for Your Church?
We all have a faith story, a way God has worked His salvation into our lives and brought us to Him. Our calling as Christians is to bring others to a saving faith in Christ, and we can most effectively do that by sharing the ways God has been working in our lives. We should do our best to do so in a way that is engaging and captivating.
What Do You Need?
For short weekly videos, it makes sense to have gear that is more portable and can be set up quickly and easily. For longer, higher-quality videos, however, it might be a good idea to have a more intricate setup.
Camera(s)
Like I said earlier, you could very well shoot these videos with your iPhone. But if you really plan to invest the time and energy into making longer videos, you may want to look into getting a couple of DSLRs that have a better picture and depth of field. Have you ever seen a video that blurs out the background while keeping the person being interviewed in focus, and wondered how they got that shot? A camera like the Canon Rebel T6 allows you to do that. If you plan to do longer interviews with someone, you should look into getting two cameras. That way, if the person makes a mistake and needs to start over, you can switch to the other camera when editing to get rid of the pause.
Tripod
Having a good tripod (or two if you purchase a second camera) will keep your footage from looking shaky. A tripod like the Cayer BV30-Camcorder Tripod System has a fluid head that allows you to pan and tilt the camera more smoothly.
Microphone
Getting good audio is just as important as getting high-quality video. If your audio doesn't turn out well or is difficult to hear, people won't watch your video. I love using the Zoom H4n Handy Recorder. It is easy to use and very portable. You can find bundles with lavalier microphones included, but you can also plug two shotgun condenser microphones, like the Audio-Technica AT875R into the H4n, to capture the room noise as well as your subject.
Lighting
To take your videos to the next level, you'll want to look into some good lighting solutions. A set of LED lights like the IFB1024 3-Point Light Kit will help you get rid of any unwanted shadows and adjust the color of the room all without making the room blazing hot.
Computer with Editing Software
There are many options for computers and software for editing videos, and there are as many opinions on what's best. But in my opinion, the best option is a high-speed MacBook Pro with Adobe Premiere Pro. MacBooks are great computers for creative work like video editing. They are fast and easy to use. Premiere Pro is a great video editor. It has all the bells and whistles you need to make your videos look amazing.
Examples of Longer-Form Videos
You could make any video last ten minutes, but a ten-minute sermon video or social media post may not be the most effective. Here are some examples of videos that are effective in longer form.
A Member's Faith Story
You might have some members whose stories are a little longer than you could fit into a three-minute testimonial video. But sharing these stories can be a great tool for growing your community.
Your Church's Ministry Plans
Part of our call to grow God's kingdom involves being creative in the way we do ministry. For example, in this day and age, a lot of churches are small and struggling financially, but there are still some churches that have the members and finances available for thriving ministries. Many churches work together and join forces to do the most good for the Kingdom. You might consider creating a video to explain why your church should join forces with another to help your members get on board with the opportunity.
Confirmation Curriculum
While we'd all agree that we prefer our members to make coming to church more often a priority, we also know that families have so much going on. One way many churches get around this lack of available time for confirmation is by creating at-home curriculum. Pastors and DCEs can make a video for each lesson that families can watch at home on their own time. While this doesn't get rid of the need to meet up occasionally, it can keep groups from having to meet multiple times per week.
Some Things to Keep in Mind When Editing
When you're creating longer videos, there are some details you should keep in mind to help you stay on top of things.
The more video you capture, the longer it will take to edit. With digital cameras, it is much cheaper to just keep the camera rolling and capture everything. However, you need to remember that once you get back from the shoot, you'll need to watch through all that footage to figure out what you want to use. To help with this problem, it can be a life-saver to have a goal for your video before you shoot. Knowing what questions you want answered or what story you want told and doing a bit of storyboarding to plan which shots to get will give you a guide of what to look for when you edit.
B-roll is your best friend when it comes to editing. When I'm editing something like an interview, my main goal is to piece together the story in a logical and cohesive manner. Sometimes, however, this can mean chopping up footage and rearranging clips. If you have a lot of b-roll, such as pictures or videos of the topic your subject is talking about, you can layer that b-roll over those cuts to make them less noticeable.
Music will make your story more engaging. While the story is the most important part, having music that fits the tone of your video will make the video feel less lengthy, even if it is around ten minutes long. Be sure to keep the music low and in the background so it doesn't take people's attention away from the story. My favorite place to find free music and sound effects is YouTube's Audio Library.
As with most creative projects, the more work and planning you do, the easier it will be to put the video together. These longer videos are a great opportunity to work as a team. Perhaps two people can run the cameras while another does the sound, while someone else is helping interview. This can be a great way to get members involved and invested in your church's ministry!
Subscribe to the blog to receive notifications about more content like this.