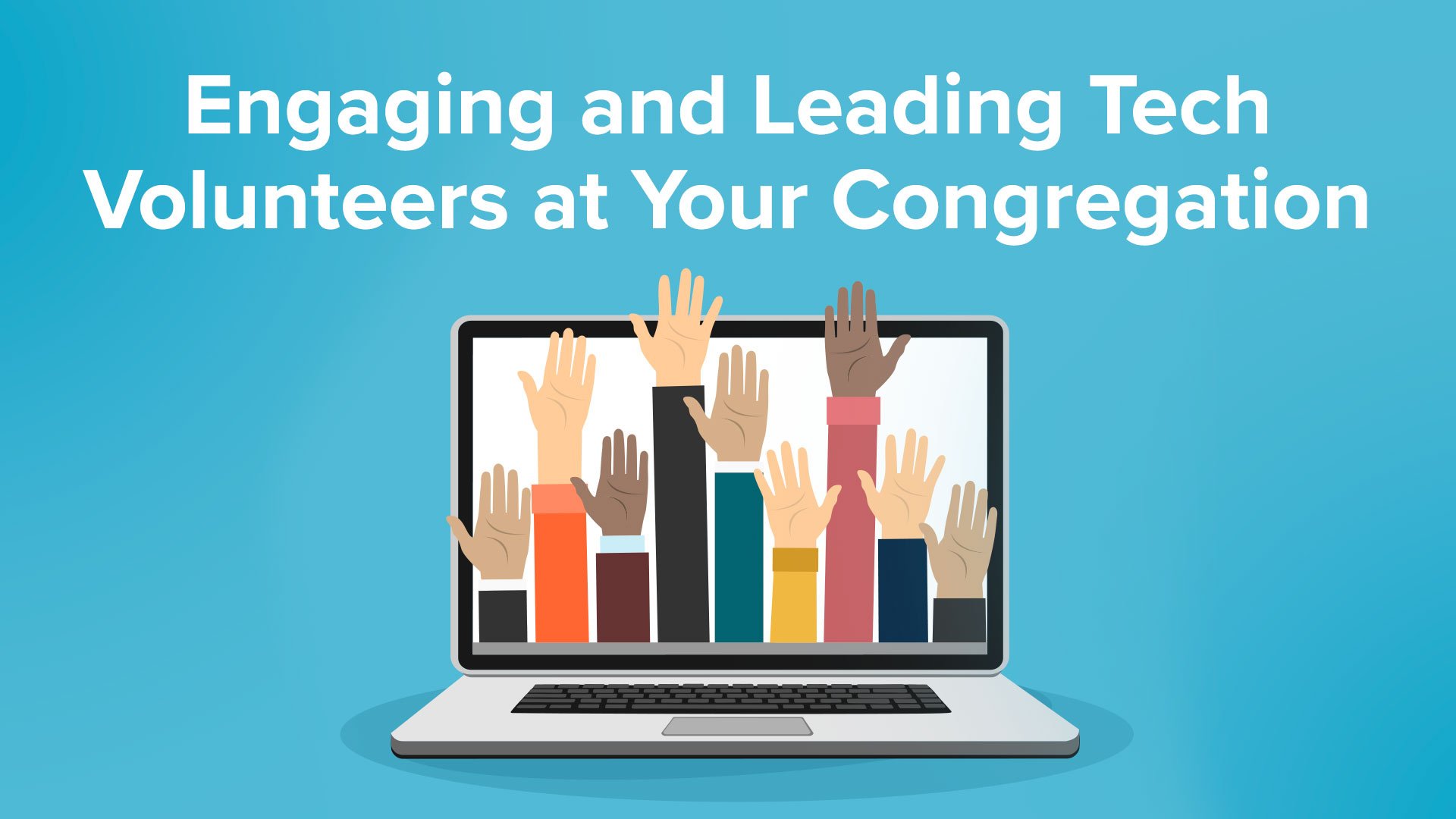 Though not new, the opportunities for people to serve in technology-related roles have greatly expanded in many congregations. Joining the ranks of service mainstays in the church, technology teams are now just about as prevalent in the regular functioning of a congregation as the altar guild, trustees, and board of education.

In the church, as in other organizations, we often use the term "volunteer" to distinguish between members who carry out various roles and responsibilities without monetary compensation and paid staff members. It's the Body of Christ working and functioning together, using the unique gifts and qualifications God has given to each of His beloved children.

When we recognize the way God has gifted members of a congregation who are in tune with the needs of the community (both those inside and outside of its walls), our eyes are opened to an abundance of opportunities involving technology through which the Gospel can be shared! Some of these areas and roles include, but are not limited to, the following:
Social Media

Content creators
Moderators

Livestream


Setup masters
Audio engineers
Video editors
Camera operators

Worship

Audio engineers (soundboard)
Video engineers (presentation slides)

Website

Administrators
Designers
Copywriters
Blog writers
Editors and moderators

Podcasts

Hosts
Audio engineers
Editors

General IT

Jack-of-all-trades
General hardware maintenance and updating
Troubleshooting
Software and network setup and upkeep


Recruitment
Personal invitations are key when it comes to recruiting people to serve in almost any capacity. As you seek to bring people on board, focus on matching their gifts and interests with a place to serve rather than leading with the organizational need. This approach moves recruitment from an onslaught at a particular time of the year to more of an ongoing process (although there are certainly natural seasons for involving people, especially shorter-term events and the like).

If building a technology team sounds overwhelming, take a deep breath and start small. First, identify one or two people and build from there. Those individuals may have an idea of others to bring on board as well.
Job Descriptions
Job descriptions aren't just for paid roles. Clearly defined responsibilities and expectations are helpful for everyone in an organization, whether they're compensated monetarily or not. There will always be things that come up that are not directly addressed in an official job description, but having a place to start and refer back to provides clarity. In addition to responsibilities, job descriptions often outline the role's connection to the congregation's mission and vision, desired skills, time commitment, training provided/required, and reporting relationships (who oversees who). When there's a question or lack of clarity, job descriptions become the first thing to consult.

Like other opportunities for serving in a local congregation, roles that involve technology are often quite varied. Many work behind the scenes, such as those who produce digital content and those who set up and maintain hardware or other physical items. Some responsibilities can be handled remotely, offering greater flexibility for those serving, while roles like sound engineer or livestream videographer require availability at a particular time and place. Be sure to include these factors as you develop job descriptions.
Training
When a role is created or stepped into by someone new, training is necessary. In some cases, this includes a technical skills piece. Training also includes an introduction to the culture and vision for a specific team or area of service, safety protocols, support and encouragement, and how a role connects to the larger mission of the congregation as a whole.

On-the-job shadowing and apprenticing are often helpful and effective elements of training, particularly when introducing a specific process.

After the initial onboarding and training, we move into ongoing resourcing and equipping.
Resourcing and Equipping
Ensuring volunteers have access to the tools and resources needed to carry out their duties contributes to a healthy and thriving culture of service. Just as we need to clearly communicate expectations for the individual who is serving (as we discussed earlier), we must also be clear about what the volunteers can expect from the congregation and those leading them.

A large part of this is providing or giving permission to gather what is needed for a particular job. For instance, when someone is running the livestream for a service, are they expected to provide their own equipment? How do they log in to the appropriate programs and platforms?

Walk through the position description for any given role and identify what's needed to get the job done. Talk through and clarify expectations with volunteers. This helps to identify where and which systems and processes need to be in place for the smooth functioning of a team or task.

In technology-related roles, things like where and how equipment is stored and set up, login credentials, file storage and organization, preferred communication channels, and project timelines and deadlines should be considered and communicated to the appropriate individuals. For those creating content, a house style guide is a key resource.
Celebrating and Thanking
Throughout the apostle Paul's Epistles, we have a great example of acknowledging and celebrating the involvement and contributions of members of the Body of Christ. With all the behind-the-scenes work carried out by those serving in tech-related areas, it can be easy for their contributions to go unnoticed unless something goes awry.

There are many ways to show and share our appreciation: handwritten notes, social media shoutouts, gift cards, celebratory meals (when that's a safe thing to do again), seasonal gatherings, and acknowledgments in various publications (newsletter, bulletin, etc.) or during weekly announcements in the worship service.

Thanks be to God for the many and varied ways He's given us to serve and share the Good News of Jesus' life, death, and resurrection!
Want to see how you can engage and lead the tech-savvy, young adults ready to volunteer in your congregation? Click the button below to download an ebook about millennials.